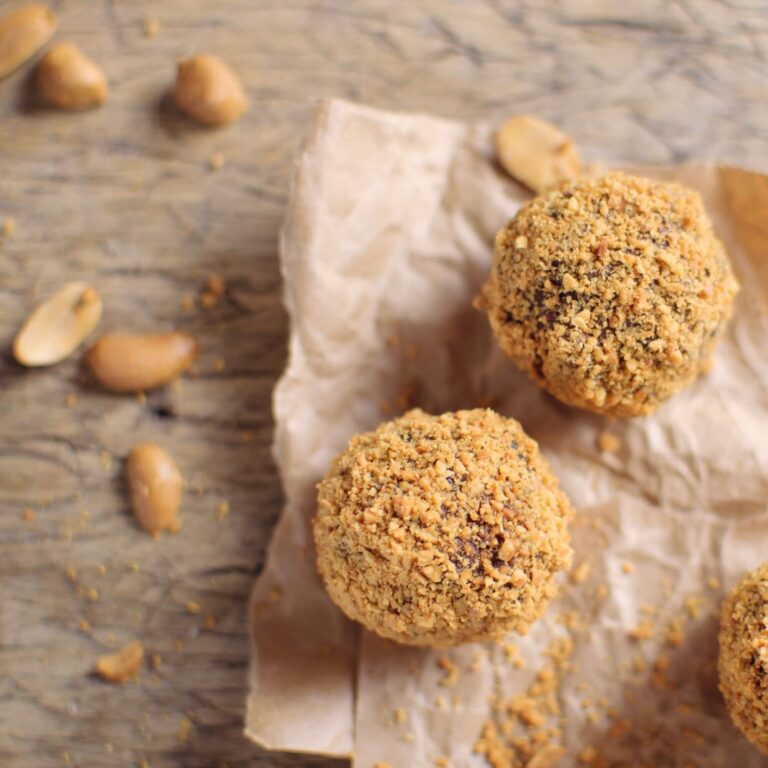 10 Medjool dates

2 Heaped tablespoon natural peanut butter

1/2 Cup roasted unsalted peanuts (or any other type of nuts will do)

1/3 Cup oats

1/2 Cup shredded coconut

80g Tribal Moon Ceremonial Cacao

1 Scoop vanilla pea protein powder

Pinch of himalayan salt
DIRECTIONS:
Remove pits from dates and add them to a bowl. Pour hot water over them to soften for approximately 5 mins.

Once the dates are soft, pour out all the water and place into a food processor or high speed blender along with the peanut butter and salt then blend until smooth.

Add in all remaining ingredients and blend together. Don't over blend as you still want some chunky bits in the mixture. If you are having trouble blending you can always stop and mix it together with a spoon then blend again.

Scoop out into a bowl and roll small amounts in your hands into balls and continue with the remaining mix.

Store in an air tight container in fridge and enjoy!
NOTES: We often like to make a quick thick Tribal Moon Cacao hot chocolate sauce with cacao and a tiny amount of coconut oil to poor over the top and let it set as per the photo. Or, sometimes finely crushed peanuts is great to roll the bliss balls in, or do both of these things… it just gets better and better. 
CHOCOLATE SAUCE:
1/4 cup coconut oil
1/4 cup maple syrup (can be subbed)
50g Tribal Moon Cacao add all ingredients to a small saucepan, cook over low heat SLOWLY, and stirring constantly.